What's the Beef about Land Prices?
April 29, 2015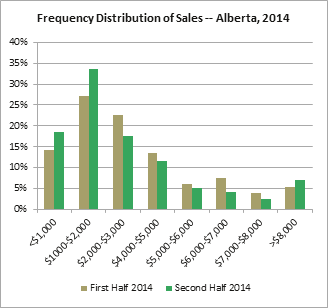 The latest Land Value Trends newsletter has now been released, summarizing Alberta land sales during the second half of 2014.  In an effort to provide an analysis that reflects variances across the province, we have again included regional analyses and examined re-sales. Overall for Alberta, the greatest concentration of sales in 2014 occurred in the $1,000 - $2,000 per acre range. For the second half of the year, the frequency of trade in that low range increased, as did the frequency of sales in the less than $1,000/acre range.
Despite this, the mean price for northern and central Alberta held reasonably steady between the first and second half of the year. In Southern Alberta, sales in the second half of 2014 returned closer to a normal distribution, with fewer sales in the higher end of the value range.
Cattle Price impact on Pasture and Crop Land Prices
With grain and oilseed prices lower than they were two years ago, there has been speculation that land values may be near a plateau.  However, in Alberta the beef industry is also a dominant commodity in the agriculture industry and over recent months record beef prices have attracted considerable attention.  
Given the effect that crop prices are believed to have on the price of cultivated land, it could be speculated that strength of cattle prices could have a similar effect on pasture land.   Both the expansion in the Alberta beef herd and the resulting increase in forage acres should not be ignored as a possible driving influence on land prices.   See details in the full version of Serecon's Land Value Trends newsletter.