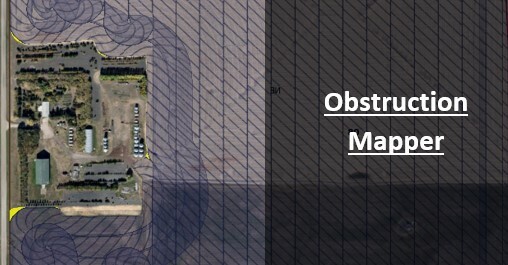 Serecon has proprietary modelling software that allows the accurate estimation of travel paths for farming operations.   It uses high-resolution aerial imagery and the width and turning radius of farming equipment to calculate the amount of overlap that will result on a field.   It estimates both the number of times an area is travelled over and the number of times that products (seed, fertilizer, chemicals) are overapplied.   
The model outputs accurate maps of exactly where in the field this overlap occurs.  These estimates of additional operation time, duplicate travel and double input application can then be applied to various scenarios to estimate the agronomic, financial, and environmental impact of various management scenarios.
The most common use has been assessment of financial cost incurred by farmers when having to change their field pattern to work around a new obstruction. However, the Obstruction Mapper has also been applied in many other situations, based on client needs, and include:
Financial impacts of roads, wellsites or other structures impeding optimum field patterns
Optimization of field efficiencies (including equipment selection and pathing options)
Estimation of the cost of environmental protection measures, such as leaving wetlands or wildlife habitat intact
Modelling of energy use and climate impact -- as part of food supply sustainability indicators
Potential applications for the Obstruction Mapper software (Powerpoint presentation)
The video below gives a quick demonstration of the path modelling that we undertake in the Obstruction Mapper software.  For more information, please call our specialists to explain the context in which you would apply this technology.