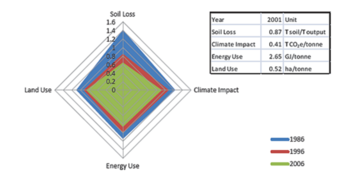 Growers have always been concerned about stewardship of their land.  Production of crops in Western Canada has become considerably more sustainable over past decades through:
Higher yield
Reduced tillage
Improved nutrient management
Changes in crop rotations
But consumers and retail food supply chains are now demanding more sustainability information. We have quantified the changes in energy use, climate impact, land use, and soil erosion by western Canadian crops. We are now able to show that there has been considerable improvement on every one of those indicators, on every crop that we studied. This spidergram chart shows the results for peas - the environmental impact is now much lower on all four indicators.  Read the full report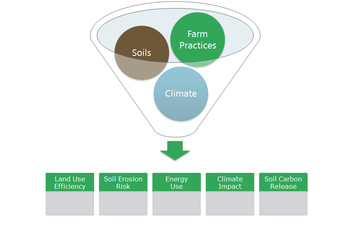 The Canadian Field Print Calculator lets individual growers document that their production practices are appropriate and sustainable.  The diagram to the left gives an overview of how simple the calculator is at its core.  Basic information on farming practices, soils, and climate are used to model an individual crop's estimated sustainability on the four indicators.  More details
The calculator is very easy to use and only requires some basic information including your location, equipment and time for field operations.  From that information, it will give you reports on your field-by-field performance on these indicators:
Land Use Efficiency
Soil Erosion Risk
Energy Use
Climate Impact
Soil Carbon Release 
Download Input Spreadsheet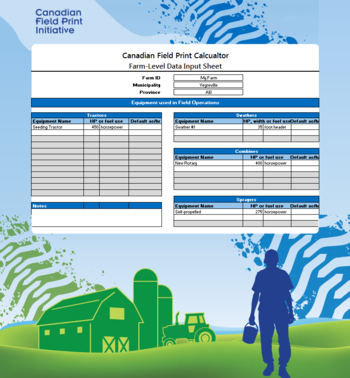 If you are a participant in this year's Pilot Projects, please download this spreadsheet and submit the completed file to the pilot project organizers by e-mail.  The spreadsheet has room for up to a dozen fields, but it is hoped that growers could contribute data from at least the last 3 crops years from 3 separate fields.
If you would like to try the Calculator and prefer not to participate in a pilot, or would like more information on the pilot workshop locations and times, please contact Markus Weber at 780-448-7445.
Canadian Field Print Initiative Participants
The following organizations are participants in the Canadian Field Print Initiative and have contributed to the projects financially or through the time and insight of their staff.