Agriculture Excellence Conference
January 3, 2017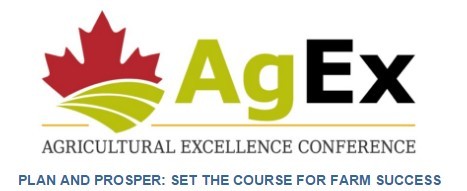 The Agriculture Excellence Conference (AgEx) was held in Calgary November 22-24. AgEx is a one-of-a-kind event that concentrates of themes of farm business management. Attendees were a collection of farmers, advisors, organizations, and government from across Canada. Over the 2 days, attendees had the opportunity to listen to keynote speakers, participate in breakout sessions, and network with other members of the agriculture sector.
Some of the topics that were covered or discussed during the conference included:
Changing agri-value supply chains in the global landscape and why producers should consider directly connecting themselves with processors in global markets
The changing face of farm management
Managing risk in agriculture
Ideas to consider before buying farmland
We were encouraged to see the number of producers that were in attendance, as well as how young they were. It is promising to see people investing in themselves and enhancing their understanding of farm business management practices. These are great events for producers and other agriculture members to see what farm financial options and tools are available to ultimately help them achieve their goals and objectives.
At Serecon, we are specialists in the business of agriculture and are naturally drawn to events like AgEx. This provides us with an opportunity to gauge industry thoughts and concerns with regards to farm business management as well as observe what new services are being provided by industry members. Serecon provides services to the agriculture and food sectors through asset and business valuation, management consulting services, and farm asset management.