Canadian Field Print Initiative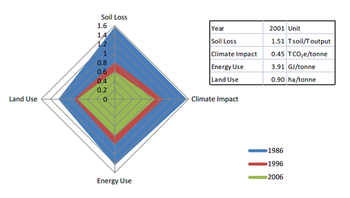 The Field Print Initiative first developed sustainability metrics for Western Canadian crop production in 2011. These metrics follow the basic design of the Field to Market metrics developed for the United States, in response to demand for sustainability information from consumers and food companies. Metrics were developed for Land Use, Soil Loss, Energy Use and Climate Impact, across the crop-producing area of Western Canada. These macro-level metrics were developed for wheat (spring, winter, durum), canola, oats, peas, flax and lentils.
In 2013, this led to the development and pilot of the Canadian Field Print Calculator. This tool is designed to be used at the level of the individual farm, to enable producers to:
Compare the sustainability outcomes on their farms to regional averages
Compare their sustainability outcomes over time
Compare the sustainability outcomes of alternative scenarios on their farms
The Field Print Initiative has broad representation from Canada's crop production organizations, and is working closely with the Canadian Roundtable for Sustainable Crops. It continues to follow the approach of Field to Market in the US, whose membership includes Cargill, Bunge, General Mills, Kellogg, McDonald's Corp, Coca-Cola, Unilever and Walmart.
Grain companies and food companies are starting to demand information relating to sustainable practices:
General Mills has committed to "sustainably source 100% of its 10 priority ingredients by 2020", including wheat, oats, corn, dairy (General Mills News Release, September 2013)
Unilever intends to source 100% of its agricultural raw materials sustainably by 2020 
Walmart is sending out questionnaires to suppliers, asking for more information on sustainability performance and sourcing of commodities