AgriWorkforce Roundtable – Evaluating Compensation Solutions
July 6, 2017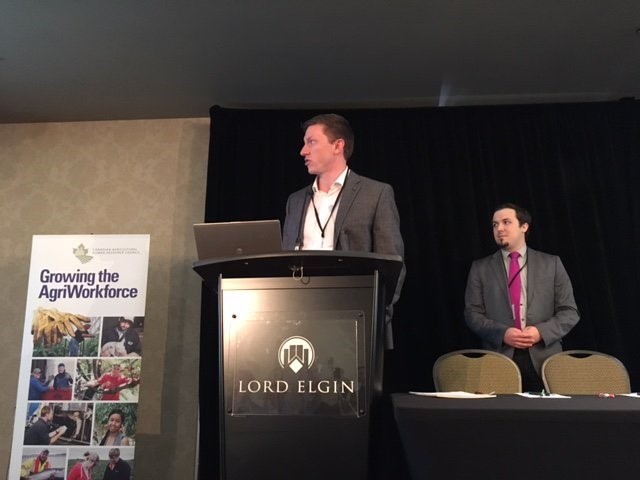 Last week, Serecon was invited to attend the AgriWorkforce Roundtable, organized by the Canadian Agricultural Human Resource Council (CAHRC), to present on findings on a wage rate survey conducted for the Canadian mushroom industry. The objective of the roundtable was to facilitate discussion of the opportunities and challenges experienced by the agricultural labor workforce in Canada.
There were presentations on the international perspective of agricultural compensation by Marc Smith (former Senior Extension Associate at Cornell University) as well as a presentation about the impact a rising minimum wage on the agriculture industry by AGRIcarrières. Opportunities for roundtable discussions were provided for discussion on how to improve the accessibility of labor in the agriculture market. One of the main suggestions was to incorporate agricultural learning in schools at a young age to help foster interest in the agriculture industry.
Serecon presented in conjunction with Groupe AGÉCO about findings from a wage rate survey that was conducted in the Canadian mushroom industry. Some of the findings of this report included:
Majority of workers, both Canadian and foreign workers, are earning above minimum wage
Temporary foreign workers are an important component of the mushroom workforce
Biggest challenge in the industry is finding more workers
A producer panel was also assembled and each of the four producers had the opportunity to present about the strategies they use of their farms to recruit and retain workers. Some of the suggestions included:
Offering training
Including workers in decision making
After-hours recreational activities for workers and families.
These presentations were well received, sparking numerous questions from the audience. It was valuable for the audience to hear the what strategies are being used by producers at the grass roots level.
The remainder of the day consisted of discussions about utilizing accounting strategies to fully maximize the employee's compensation package and further discussion of how groups can communicate with industry and government to voice their opinion.
Overall, the roundtable was a valuable opportunity for Serecon to present findings of the previously conducted wage rate survey and further understand human resource issues that persist in the agricultural workforce. To find out more about the roundtable results; contact Todd Bergen-Henengouwen at 780-540-5319 or email.